---
In this blog, we are going to look at how you attract the right type of customers into your business. Customers who are going to help you grow your talents and your business! We are going to look at POWER customers – who they are and why you need to get more of them loving what you do and returning time and time again!
---
Do you wish you had more customers in your balloon business with bigger budgets who challenge you to grow your talents?
So many balloon business owners I talk to are frustrated that for every fab customer there are so many more blah customers knocking on their door (or Facebook page). People wanting cheap… people with smallish budgets but wanting the earth for their money… People who take up so much time but order very little… (We have all had them right?) So many balloon business owners tell me that their current marketing is just not bringing the customers they want the most, and after a while, it can really become a drag. They often say that finding the perfect customers… the ones who book creatively challenging orders, that allow your talents and business to grow, can seem like looking for a needle in a haystack. If this is ringing bells with you right now then don't worry read on to find out more about POWER customers and how you can attract more of them into your business…
Why might your current marketing be letting your balloon business down?
The trouble is when most people start a balloon business they have very little, if any experience in how to market their business. They jump on to social media and market to anyone and everyone, in the hope that it will attract customers into their business. And it does! in marketing terms, it's called the spray and pray approach. Using their network of friends and family they start to attract lots of people and orders into their business. These are what I call your bread and butter customers…. and there is nothing wrong with them… they pay the bills! (especially at the start) It doesn't matter what marketing you do… (as long as you do some!) they will naturally come into your business and bring you a steady stream of income.
So what's the problem I hear you say? Well, the problem is you only have x number of hours in your week to make money. Many balloon business owners, especially at the beginning, have other commitments such as jobs, children, elderly parents etc. A lot of balloons are wanted during the weekend period Friday to Sunday and there is only so much you can do. So if you fill your diary full of lowish value orders and have a lot of your time taken up by people with smallish budgets it's going to be really difficult to grow a full-time sustainable business. Before long you realise you are working harder and harder for very little profit and you start to question if your little business is even viable in the long term.
So what is the answer? Let me introduce you to POWER Customers for your balloon business!
When you are a small business owner with limited time and a limited budget it is essential that you are spending your valuable time and marketing budget attracting the right types of customers into your business. But who are the right types of customers, how do you find them and what do you say to them to attract them into your business? I call these types of customers POWER customers.

Your POWER customers are:
P

assionate about what you do. They love what you sell!

O

pen to your ideas because they want something unique!

W

illing to spend a little more to get what they want.

E

ncourage others to use your services. They tell everyone how amazing you are and recommend you where ever they go

R

espect and value your time and talent. They don't squawk at your prices and they trust you to deliver every time.
These to me are the customers who have the power to make your work a total joy and help you grow your business! They are the perfect fit for you and your business! They can take a little longer to find and start to get into your business but once you do you will never look back.

This is NOT about sacking any of your customers!
Before we get into who they are and how to find them I just want to clarify one thing. This is NOT about sacking any customers. It's not about who you sell to… you are going to continue selling to everyone… (or at least until your order books are so full of POWER customers you have no room for anyone else….) POWER customer marketing is about who you spend your precious (and often limited) time, energy and budget marketing to not selling to.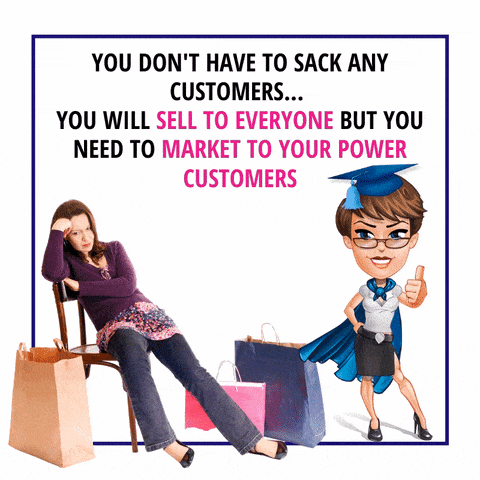 Who are your POWER customers for your balloon business?
So how do you work out who your power customers are? Well, chances are you already have a few of them in your business. Think about the customers you love work with the most. What is special about them? What do they love about you? What do they need when they come to you? What is it about your business that keeps them coming back time and time again?

If you find it hard to pinpoint a customer you love, think about customers you don't like working with. These are the opposite of your POWER customers. What was it that made them a bad choice for your business? Were they difficult, rude, unrealistic? Did they send way too many messages? Or maybe they never got back to you and then at the last minute changed everything? Was budget an issue and they wanted way too much for their money?

Think about what sort of person you have loved working with so far. Think about the types of customers you would love to work in the future.

Sometimes your POWER customers may not who you first think of…
I just want to drop a little note in here and say sometimes your POWER customers are not who you think they will be. When I first started out in my business I thought my POWER customers were going to be rich customers with large budgets wanting extravagant birthday parties for their children. I was more than capable of doing this type work so I marketed to them, gained a few customers, only to find that the pressure associated with these types of jobs took the joy away from the creativity. I just wasn't enjoying it and it made running my business feel hard. My actual POWER customer ended up being women with children or the mothers of those women on a middle income who were getting married in a local venue and wanted full balloons and venue decor to totally transform a venue, or who wanted some amazing balloon decor for their little one's party, christening etc. They wanted something very different from what they could get elsewhere and they were prepared to pay a little bit more for the time and talent required. They tended to be very family orientated having big family events, were very sociable, with lots of friends and they enjoyed celebrating the happy times with their loved ones. A lot like me actually! In fact, often POWER customers are just like the business owner because you feel comfortable working with each other. My POWER customers didn't usually book fancy venues because they wanted to invite as many people as possible, they needed a venue that could accommodate that number of people without huge expense, but they still wanted the venue to look a million dollars anyway!

DAILY HELPFUL ADVICE, VIDEOS AND TIPS TO GROW YOUR BALLOONS BUSINESS.  CLICK ON THE LIKE BUTTON ON THE FACEBOOK PROFILE ABOVE TO START FOLLOWING THE PAGE & START GROWING YOUR BUSINESS TODAY!.
Nothing is set in stone… it's okay for your POWER customers to change over time!
The reason I am telling you this is because, like everything with running a small business, nothing is set in stone. Just because you think your POWER customer is one person doesn't mean they have to be forever. So many people get hung up about having to get it right straight away. It can almost paralyse them and stop them from moving forward. A lot of marketing in the early days is trial and error but you need to start somewhere. Start with the POWER customers you think you want to work with and if that turns out to not be the case I guarantee by the time you realise you will have worked out who your POWER customer actually is!

You may have several POWER customers in your balloon business…
In your balloon business, you will most likely have more than one POWER customer. Because we supply balloons for all sorts of occasions and events there are numerous different types of customers we market to. For example New Mums, Brides to be, People wanting birthday balloons, Gift purchasers… the list goes on. For my general marketing, I created my general POWER customer. They fitted pretty much most of the moulds because often they would be getting married, had children etc. but I also had other POWER customers I could run ad campaigns for. So for example sometimes I run campaigns specifically to men in relationships for valentines purchases. What I suggest you do is start with your general POWER customer. These are usually repeat customers so a FAB place to start. Moving forward you can look at your POWER customer profiles for other holiday seasons and types of events as you go so you can amend your marketing messaging and strategy accordingly.

The other thing I want you to know is you don't need to know everything about your POWER customer! If you have done any ideal customer training before (sometimes referred to as customer avatars) you may have been taught you need to know everything down to what breakfast cereals they eat, the colour of their knickers and where they holiday etc etc… . My experience of POWER customer marketing is that you only need to know the important stuff that is relevant to your actual business or will make a difference if you are running targeted ads on Facebook or Google.
Questions to answer to getter clearer on your POWER customers…

Here are some questions to ask yourself to get clear on who your POWER customer is:
Are they usually male or female?
Do they work?
What age group do they usually fall into?
Do they have usually children?
Are they usually in a long term relationship?
How far do they usually live from your business?
What are their interests?
Where are they likely to be hanging out on social media? Think about all the groups and pages they may like…
Where are they likely to be hanging out offline?
Are they more supermarket/Primark shoppers or are they more Marks and Spencer's/boutique shoppers?
When arranging an event do they DIY arrange the vendors or use a party/wedding planner?
What sort of budget do they have for balloons and decor?
What sort of words might they use when describing the event they are planning?
What other types of companies might they be booking for their event?
What sort of balloons and decor are they likely to want? What products are they likely to fall in love with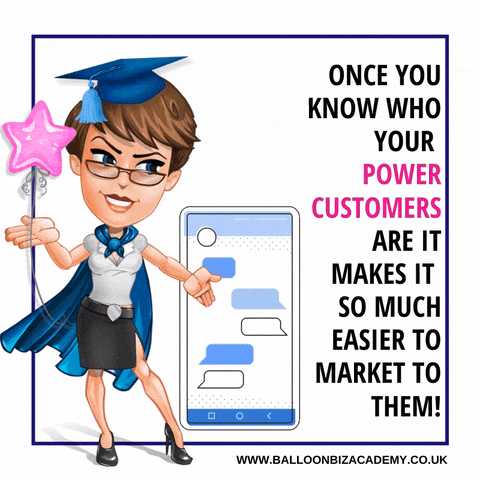 Now tailor your marketing to reach out to your power customers…
Based on your answers you should now be able to get clearer on who you are marketing to. This enables you to put yourself in their shoes and:
Get focused with your time and budget
Use words and images they will love
Market in the places they are hanging out
Network with companies they are already attracted to
Produce products they will fall in love with
Tailor Facebook ads and most importantly target audiences to get the best results for your money
Start attracting more POWER customers into your business
POWER customer marketing should be constantly evolving in your balloon business
As with everything it's all about trial and error and analysing your results. As you start to do more POWER customer marketing you will learn more about these types of customers. You will also get clearer about what works well and what doesn't. POWER customer marketing should be something you continue to work on over time as things change online and customers change too.
I hope you have found this blog useful! I would love to hear your feedback as this encourages me to create more content to help you grow your balloon business!
Until next time.. Stay amazing!
Sonia x
---
BUILDING A STRONG LOCAL CUSTOMER BASE IS ESSENTIAL FOR GROWING YOUR BUSINESS!
FREE eBook - 20 Ways to Market your Local Business
Do you need more local customers in your business?  Are you working hard marketing your business but its not quite translating into the results you want?  Maybe you are busy but you need more profitable orders?
This eBook is just for you! It is crammed full with 20 ways you can market your business in order to get more local customers through the door.
As well as getting access to this amazing resource  you will be added to the wonderful Balloon Biz Academy Community eMagazine, you are free to unsubscribe at any time if it's not for you AND I absolutely promise I wont send you off down a funnel of automated emails, I am not spammy - Its all about tips and advice to help you grow your balloons and venue decor business - and I keep your details super safe.
---
---
ABOUT SONIA
Hi there! It's so great to have you here! Having grown my own balloons and venue decor business I now really want to help you grow a profitable and successful business too! I can't wait to see where your journey takes us! Make sure you come join us in the FREE community

Balloon Biz Academy Community

and accelerate the growth of your business – The Quick and Easy Way!
Until next time… Stay Amazing!
Sonia x