---
When it comes to growing your business I am all for the quickest and easiest way to do this. In this blog post I am going to introduce the concept of Anniversary Tracking. It's a simple and effective way of making sure you not only retain existing customers in your business but you use them to grow and scale your business!
---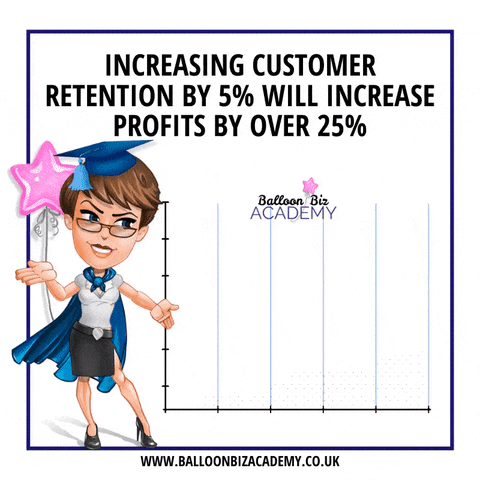 Why are Existing Customers so Important?
Retaining existing customers is hugely important to growing and scaling your business quickly. It's also far easier to grow your business with existing customers than acquiring new customers. Increasing your customer retention rate by only 5% can increase your profitability by over 25%
So let's look at the benefits of retaining existing customers!
Existing customers already love what you do and are far more likely to order from you again.
Having seen the impact of your balloons on their loved ones and friends existing customers tend to spend more and pay premium prices on subsequent orders.
Existing customers want your latest new products and will book early to avoid missing out.
Existing customers already know how to order/collect from you and so take less time in terms of managing their order.
You already have communication with existing customers so you spend less time and money on marketing and more time and money on the growth of your business.
Repeat customers generally refer greater numbers of new customers to you than someone who has only purchased once. The more times they order, the greater their love for what you do and the more people they tell!
When their family and friends see them ordering repeatedly it makes it more desirable for them to order balloons from you too and very quickly you grow your number of repeat customers without having to do anything yourself!
The benefits of retaining customers are so clear to your business, yet many balloon business owners do not have systems in place to ensure they come back at EVERY opportunity. Within the balloon industry, it is common to see balloon businesses waiting (and hoping) customers return for all their subsequent orders but do not actively reach out to them for repeat orders.
Whilst I am sure you are seeing a fair amount of repeat business from your existing customers I am guessing that you are not maximising the opportunity of repeat business from ALL your existing customers.
Reasons Why Customers Might Not Return as Often as they Could
There are many reasons why customers might not return to order a subsequent balloon from you. For the purpose of this blog, we are going to assume that you do an amazing job, give great service and create balloons that your customers love.. So why might you still not be getting as many repeat orders as you could?
Customers don't always see the need for another balloon. Yes, they ordered for their wedding but have they even thought about an anniversary balloon a year later?
They haven't seen the offers you have available for special events like mothers day etc. Very few of your customers will see subsequent posts from your social media because they only tend to engage with your business page around the time they are ordering. If they are no longer engaging the algorithm stops showing them your content.
Another company has popped up on their radar. They can't remember how to find you or you are no longer top of mind and they go with the easy option which is in front of them.
They are not aware of the latest trends available in balloons and what they could have for their celebration.
What is Anniversary Tracking?
Anniversary tracking is a simple way of keeping track of the events customers order for and reaching out to them at the same time the following year or for subsequent special events. By setting up a system in your business which gets you to consciously think about who you should be reaching out to every single month you can increase your repeat business significantly and is a fantastic way to grow year on year.
So how do you set up anniversary tracking in your business? It can be as simple as looking back at previous years diaries and then getting in touch. If you are serious about wanting to grow your business though you can save a lot of time in the future looking for contact details by setting up slightly more advanced systems like spreadsheets, tags or automated systems that will allow you to easily pull up customers to contact.
Whichever system you choose in your business the point is to regularly look back and see who ordered around the same time in subsequent years. You need to be doing this 6-8 weeks in advance so that you can reach out to them in plenty of time (and before they have had a chance to book with someone else) with options to celebrate in style again this year!
10 Things You Can Track!
New babies – First birthday balloons
Baby Shower/Gender reveal balloons – make sure you find out the date the baby is due when chatting with customers!
Birthdays – Happen every year!
Weddings – Anniversaries
Anniversaries – Happen every year
School Proms
Sports presentations
Engagement – Be sure to follow up later and find out if they have booked the wedding.
Mothers Day, Fathers day, Easter, Christmas etc…
Back to school/End of school balloons
What will you start to track in your business?
Imagine how many additional orders you could add to your diary if you start to track existing customer anniversary dates and reach out to customers more proactively! It's an easy way to actively grow your business without having to go out looking for new customers. You don't have to start tracking everything in one go if it seems overwhelming. Start with one or two type of events and as you get comfortable with your systems add in more and more!
So what are you going to start tracking in your business today? Let me know in the comments below!
Until next time.. Stay amazing!
Sonia x
---
Have you seen the New FREE Balloon Biz Academy Community? Its a place where balloon business owners who are serious about starting and growing a business are coming together to discuss what REALLY works! Daily business discussion posts, video tutorials and the opportunity to ask your questions! Come and join us today and grow your business the quick and easy way!
---