---
In this blog, we are going to look at why you need to stay top of mind with your customers during quiet periods. How social media algorithms need constant feeding or you will begin to disappear from your customers news feeds. Read on where I share lots of great examples of what you can post to keep your customers engaged when you don't have as many balloon orders to post on your feed, so that you have an engaged audience when you are ready to start selling again!.
---


Right now your diary might be empty for events and orders. As I am writing this we are in the middle of the coronavirus pandemic, but there are other times of the year when the industry is quiet too. The first 6 weeks of a new year is often quiet for many in the industry and whenever mother nature decides to reak havoc with the weather it can result in lost orders and quiet periods. With no recent orders to showcase, this can have a major impact on your ability to post on social media and you risk falling foul to the fickle social media algorithms removing you from your customer's newsfeeds. This can have a much longer impact, on your reach and ability to get orders, once the quiet period resides than you anticipate. In this blog stay tuned for what you can do to make sure you are still getting good reach and staying top of mind so that your customers are ready to order when you come out the other side of the quiet times!

Why it's important to nurture your social media during quiet times in your business
So let's look at why you NEED to stay top of mind with customers during quiet periods in your business! Social media algorithms are fickle. Your ability to appear in peoples timelines is based on your customer's interaction with your page. If they stop commenting or liking your posts the algorithms assume they are no longer interested and remove your posts from their timeline. In a busy social media feed, most customers won't even realise you have disappeared!
If quiet periods are because of a national reason you may find your reach drops even more drastically. At the moment we are in the middle of an unprecedented lockdown due to the Covid-19 but this also happens during key holiday periods like Christmas etc. or when adverse weather brings the country to a grinding halt! Whenever more people are at home with time on their hands the social media news feeds get busy. Not only are you competing with the normal personal posts and competitor business posts, but people are bored and have more time on their hands. This increases the number of posts in your feed and this, in turn, means its harder to get seen… The problem is you need customers to remember you when you come out the other side of the quiet period more than ever because you need to get money flowing back through your business as quickly as possible! So what is the answer?
Algorithms reward consistency and show more posts from pages that post consistently…. They also reward pages that have the most customer engagement and interaction… But if you aren't making balloons for orders what can you post that will get your customers engaging with your content and showing up on their timelines? I am going to share 12 types of post you can do that will grab your customers attention!
1. Post more of You!
Post more of you…. People relate to people and people buy from people! The more they find out about you the more they will love you and this breeds loyalty. Returning customers are the backbone to the growth in every business. So, don't be afraid to share your story.
Why you started your business.
Why you love what you do.
A little about your family.
Do you have others working in your business? don't forget to share them too!
How you are dealing with whatever is causing the quiet times.
If you are learning new skills or creating new designs give them a sneak peek behind the scenes
Let your customers get to know you more!
2. Ask Questions to get engagement
Getting customers to comment and engage is key to getting the best reach. Social media algorithms view customer interaction with your newsfeed as a sign that your content is interesting and engaging, not only will they show more of your content to the people who comment but they will show more to others too!
Ask questions on your timeline. You can ask them product-related questions eg. which do you prefer, but you can also ask things not related to your balloon business. So for example, if you are looking at a personal purchase or the best place to shop for something – get customers to make recommendations. This often sparks great conversation and gets a big spark in the algorithm so great to do even when you aren't quiet! Share some fun upbeat stuff too, remember right now people need sunshine on their social media timelines. Think about who your POWER customers are and what sort of memes and posts would get them commenting and sharing.
3. Post designs you haven't posted yet.
Look at what content you haven't posted yet. If your phone is anything like mine there will be hundreds of balloons you never got round to posting. Share them scattered throughout your feed so your customers don't forget why you are the best balloon artist around!
4. Throwback posts
Throwback posts are a great way of keeping your art top of mind during quiet periods, it's also a great way of reconnecting with customers! – Reshare posts from the events you loved doing the most which also showcase your work well. Make sure you tag the customers in them it will show up in their timeline for their friends to see, increasing your audience, and is also likely to encourage comments from them and their friends and family who attended the event which is great for the social media algorithm.
5. Highlight a venue you love working at
This is something you should be doing regularly in your social media for a whole host of reasons but works really well when you are quiet. Create new album posts full of all the pictures of work you have done at the venue. Make sure you introduce the post as to why you love working there. Make sure you tag the venue in the post and customers in the pictures. This will give you a lot of reach on the post and will encourage a lot of interaction on the post. It's also a great way to showcase your work to future customers thinking of booking an event at that venue.
6. Introduce Category Posts
Category posts aren't just great for creating consistent content they are wonderful for creating organised photo albums too! Like the venue posts create an album post for different types of balloons. You could break it down into things like balloon arches, centrepieces etc. but on my Facebook, I have different albums for different events so adult parties, children's parties, personalised balloons, wedding balloons, christenings etc. Not only does it make it easier for customers finding what they look for but it makes it easier for you when customers are asking for ideas and is perfect to post during quiet times
7. Share reviews
Reviews are great for building know, like and trust in your company. People love to see other people's feedback. It builds their confidence in you and their decision to buy from you. Create a post with a screenshot of their review and the balloons you made for them. Sprinkle reviews in amongst your normal posts and once again remember to tag the person in it and thank you them for their review and how you loved working with them.
8. Network with other companies
If you are quiet you can bet other companies like cake makers, DJs, Florists, venues are too. In the event industry usually if one is quiet we all are! Networking is one of the best ways to grow your business and quiet times are perfect to start building some fantastic relationships with other companies. Reach out to them and look at ways you can work to get in front of each other's audiences. It can be something as simple as sharing each other's pages or showcasing your favourite products of theirs. Make sure it is reciprocal and start to build some long-lasting relationships that will reap the benefits long after your quiet period passes.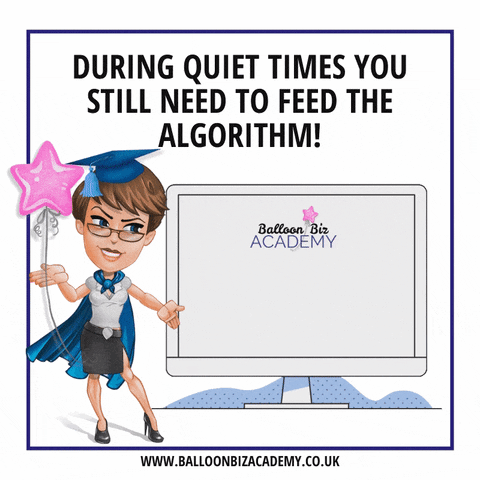 9. Run a competition
Think about what competition you would like to run for your business that would attract LOCAL customers. Local being key here because there is no point growing your social media fans if they are not the right type of customers for your business. Even if you can't deliver the prize now you can do a prize for the future or maybe offer a gift card/future discount. It is essential you abide by the rules of the platform so you don't end up in Facebook Jail for example and make sure the competition makes commercial sense but competitions are a great way to grow your audience so that when you come out the other side from the quiet period you get more orders in their diary!
10. Get to know your customers more
The key to successful marketing is to get to know who your POWER customers are. Use your timeline asking questions or using polls and finding out who they are. Do some just for fun posts and get to know them better! Get them talking and spark conversations. It's a great time to do some customer research. Ask for their help – customers love to help businesses they interact with. Why not ask them what they would put into google if they were searching for something, or questions about how they prefer to purchase, what could improve their customer experience etc.
Want to know more about POWER customers find out more about them here:
11. Thank Customers for their support
It's always good to let customers know you appreciate their support and usually when you thank them you will see more sharing of your posts because it's like a subconscious reminder to support you more! Use quiet times in your balloon business to thank your loyal customers and share some much-deserved love and appreciation on your page.
12. Share valuable local content
If the reason you are quiet is because there is a local issue like now with the coronavirus share information your customers will find valuable. Get active on local groups and share things like food banks, shopping info, and help that is available locally. Share national guidance. Share helpful tips like activities to do with the children whilst in lockdown. The more helpful you are to your customers the more they will want to see your posts in their timeline and the algorithm will reward what you do.
If it's just normal seasonal quiet periods think about who your POWER customers are and what local information your customers might find useful. So for example if they are Mums – anything to do with keeping children occupied, health and well fits. If your POWER customers are brides then anything to do with planning a wedding. Corporate customers would like anything to do with marketing, business and sorting out taxes etc.
DAILY HELPFUL ADVICE, VIDEOS AND TIPS TO GROW YOUR BALLOONS BUSINESS.  CLICK ON THE LIKE BUTTON ON THE FACEBOOK PROFILE ABOVE TO START FOLLOWING THE PAGE & START GROWING YOUR BUSINESS TODAY!.
So there are 12 things you can do over the coming weeks to keep your social media timelines interesting places for your customers to hang out! Remember to mix up the type of posts you are doing to make your newsfeed a buzzing engaged place that is loved by your customers and the social media algorithms and then when the time comes to get working again you can quickly grow momentum in your business from a standing start!
I hope you found this useful!
Until next time… stay amazing! Bye for now!
---
---
ABOUT SONIA
Hi there! It's so great to have you here! Having grown my own balloons and venue decor business I now really want to help you grow a profitable and successful business too! I can't wait to see where your journey takes us! Make sure you come join us in the FREE community

Balloon Biz Academy Community

and accelerate the growth of your business – The Quick and Easy Way!
Until next time… Stay Amazing!
Sonia x